Up for Renewal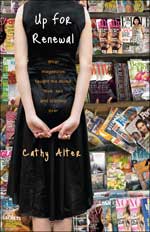 Now in paperback, the memoir of a woman who tackles the mess she's made of her life by turning it over to a stack of women's glossies.
Cathy Alter's Up for Renewal has captured the public's imagination, from Cathy's appearances on the Today show and her numerous write-ups in publications such as The New York Observer, The Atlantic, and Allure. Now in paperback, Up for Renewal is just right for beach-readers eager to hear the laugh-out-loud story of how one woman turned her life around by following the simple wisdom found in women's magazines. By age thirty-seven, with a failed marriage under her belt, Alter was continuing down the path of poor decisions, one paved with a steady stream of junk food, unpaid bills, questionable friends, and highly inappropriate men. So she dedicated her life to the women's magazines for the next year, resolving to follow their advice without question. By the end of her subscriptions, she would get rid of upper-arm jiggle, crawl out of debt, host the perfect dinner party, run a mile without puking, engage in better bathtub booty, ask for a raise, and overhaul her apartment. At least that was the premise of her social experiment. What actually happened was much less about cosmetic change and much more about internal transformation. Singular in its voice and yet completely universal, Up for Renewal appeals to all who have ever wondered if they could actually make their life over.
From Publishers Weekly
Realizing she needed to do serious work on her junk food/junk sex–littered lifestyle, Alter, a recently divorced thirty-seven-year old freelance writer, decided to spend each month of the coming year following the advice of a major women's magazine without question. She picked nine titles focusing on a how-to ethos more or less aligned with her own demographic: 
Elle
, 
Marie Claire
, 
O
, 
Allure
, 
Self
, 
Cosmopolitan
, 
Glamour
, 
InStyle
 and 
Real Simple
. Each month she'd work on a particular damage zone—diet, social fears, clothes, relationship snafus, cooking, sex, etc.—and follow the advice of her chosen magazine as earnestly as possible. Meanwhile, she'd also begun dating a new guy, which brought up relationship challenges her magazine mentors loved to address—spicing up the sex, learning to cook instead of eating out and deciding if his birthday present meant a marriage proposal was imminent. While she ends up feeling positive about the self-improvement her magazine experiment has brought, she knows if she hadn't been ready and willing to change, all the advice in the world wouldn't have helped. In the end, fans of Bridget Jones will also enjoy Alter—she's funny and endearing. 
(July)
Copyright © Reed Business Information, a division of Reed Elsevier Inc. All rights reserved. 
–This text refers to the Hardcover edition.
Review
"A funny, wise-crackey, addictively readable coming-of-maturity." — Cathi Hanauer, author of Sweet Ruin and editor of The Bitch in the House
"Cathy Alter's Up for Renewal is witty and whimsical. You'll want to stay with her well-developed voice all the way to the end." — Rachel Sontag, Author of House Rules
"You know that warm, relaxed, pleasurable feeling you get when cracking open the latest issue of your favorite magazine? That's what reading Cathy Alter's Up for Renewal is like. Prepare to not only have a great time but also to get truly inspired." — Mandy Stadtmiller, "About Last Night" New York Post columnist