CRUSH
Writers reflect on love, longing and the lasting power of their first celebrity crush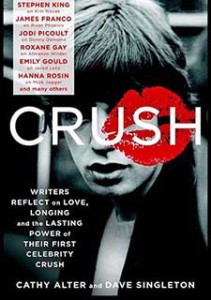 What people are saying …
"The seemingly lightweight premise of an anthology built around celebrity crushes yields an outstanding selection of poignant and thought-provoking stories." — Kirkus Reviews (starred review)
"Charming…The authors do a remarkable job collecting different types of crushes while keeping the reminiscences short and sweet…A book that balances heartbreak and relief, blind love and terror. "
— Publishers Weekly
"This solid, legitimate anthology that reflects on a compelling and universal phenomenon will put readers back in touch with their younger selves." — Library Journal
"There's a lot to enjoy in these…pieces."
— Washington Post
"Entertaining…Some stories are funny…others are inspiring…Reading these short, angst-packed essays about starting at movie screens and listening to transistor radios is like reminiscing with old friends…[A] reminder that first loves are always worth recalling."
— Booklist
You never forget your first crush . . .
CRUSH brings together stories of heartbreak, humiliation, and hilarity from a roster of popular luminaries, including James Franco, Stephen King, Roxane Gay, Jodi Picoult, Emily Gould, and Hanna Rosin, who share intimate memories of that first intense taste of love. Here are funny, whimsical, sometimes cringe-worthy tales of falling head over heels for River Phoenix, Mary Tyler Moore, Howard Cosell, Jared Leto, and a host of other pop culture icons.
Swoon-worthy and unforgettable, the essays in CRUSH will leave you laughing, make you cry, and keep you enthralled—just like your first celebrity crush.