Virgin Territory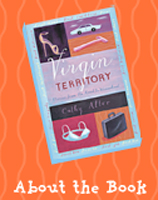 From Barbies to Bras to Botox . . .
Of course you remember your first period, but what about the first time you donned a suit and a pair of sensible pumps for a job interview? How about the first time you were catcalled while walking down the street? The first time you said something that sounded just like it came out of your mother's mouth? Do you remember the first time you lost a dear friend? Or the first time you experienced the trauma of the department store makeup counter? How about your first earth-shattering orgasm?
A woman's life is one of passages, of stages marked by changes in our bodies and in our minds. Our lives are shaped by a series of "first times," and Cathy Alter presents a wonderful array of these experiences in Virgin Territory. Here are first-
person accounts from a cross-section of women from a rich variety of backgrounds that will remind you of all those special firsts in your own life, both mortifying and monumental, including:
• First Frill: Tales of bras, designer jeans, stilettos, and all the other things we wear (and do) to make ourselves beautiful
• First Flash: Adventures with dirty books, obscene phone calls, and those naughty little pleasures we never reveal
• First Flicker: Accounts of the awesome power of T&A
• First Field: Escapades from the working life—it's not all pantyhose and briefcases
• First Farewell: Sagas of leaving home, breaking up, and moving on
Whether you are in love for the first time or experiencing your first hot flashes, Virgin Territory will remind you of the sisterhood we women are fortunate enough to be a part of and inspire you to sit down with your gilfriends and share your firsts, too.